Die Herzheilerin
und andere Grausamkeiten
Selbstmordserie unter Bundeswehrsoldaten: Evi und Max, das schrägste Kriminalisten-Duo seit Bonnie und Clyde, ermitteln undercover. Unter den Schönen und Reichen bewegte sich das Bäckermädel beim Europäischen Planetenfest. "Der Astrologe" war ihr großes Abenteuer.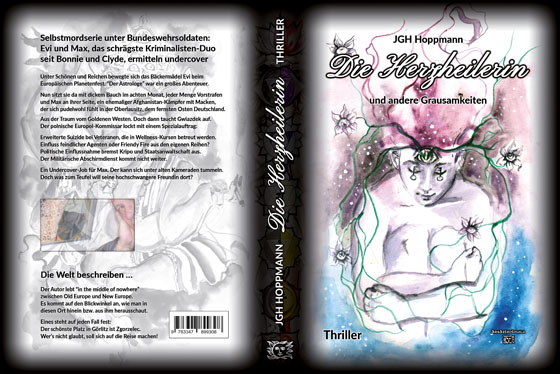 Nun sitzt sie da mit dickem Bauch im achten Monat, jeder Menge Vorstrafen und einem hier Gestrandeten an ihrer Seite, ehemaliger Afghanistan-Kämpfer mit schweren Macken, der sich pudelwohl fühlt in der Oberlausitz, dem fernsten Osten Deutschland. Aus der Traum vom Goldenen Westen. Doch dann taucht Gwiazdek auf. Der polnische Europol-Kommissar lockt mit einem Spezialauftrag.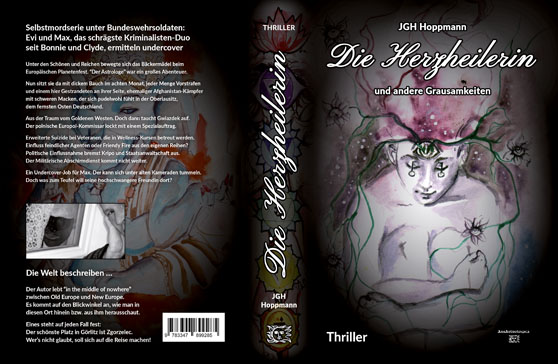 Erweiterte Suizide unter Kriegsveteranen, die in Wellness-Kursen betreut werden. Einfluss feindlicher Agenten oder Friendy Fire aus den eigenen Reihen? Politische Einflussnahme bremst Kripo und Staatsanwaltschaft aus. Der Militärische Abschirmdienst kommt nicht weiter.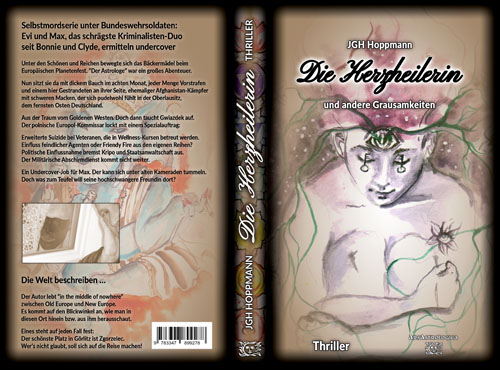 Ein Undercover-Job für Max. Der kann sich unter alten Kameraden tummeln. Doch was zum Teufel will seine hochschwangere Freundin dort?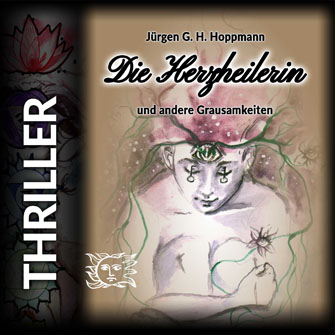 Lektorat und Korrektorat: Gundula Bacquet, Frankfurt am Main
Deutsche Verlagsauslieferung: tredition GmbH, Hamburg
Deutsche Hörbuchdistribution: XinXii, Berlin
Sensitivity Reading, Exposé-Gutachten: Li-Sa Vo Dieu, Berlin
Zeichnungen Umschlag und Innenteil: Patricia Cooney, St. Gallen
Foto hintere Umschlagseite: ArsAstrologica, Görlitz
Rückschau im Buchanhang: Lorenzo Gori, Berlin
Vorschau: Commedia dell'arte, Jacques Callot: Wellcome Collection, London
Chakren: Wikimedia, Author datumizer, formerly SharkD, Michael Horvath
Umschlaggestaltung, Layout, deutsches Hörbuch: ArsAstrologica, Görlitz
Pinyon Script Font: Nicole Fally, safe new world studio, Bielefeld
Vollkorn Variable Font: Friedrich Althausen, Schwielowsee
Webdings und Palatino Linotype Font: Microsoft, Redmond
Lato font family: Lukasz Dziedzic & Adam Twardoch, Warschau




EUR 24,99 ISBN 978-3-347-89928-5 (Hardcover)
EUR 18,99 ISBN 978-3-347-89930-8 (Großdruck)
EUR 12,99 ISBN 978-3-347-89927-8 (Taschenbuch)
EUR 6,99 ISBN 978-3-347-89929-2 (E-Book)
EUR 9,99 ISBN 978-3-987-62896-2 (Hörbuch)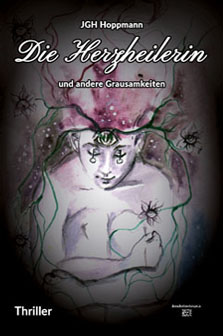 ---



The Heart Healer
and other atrocities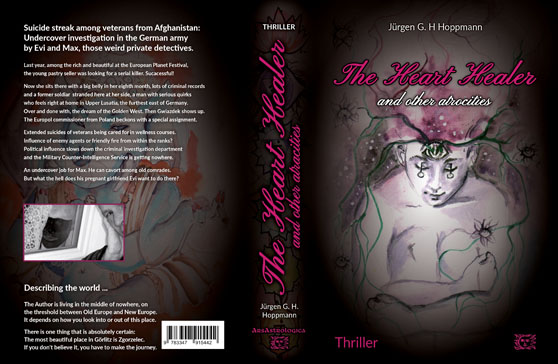 An esoteric thriller. Suicide streak among veterans from Afghanistan: Undercover investigation in the German army by Evi and Max, those weird private detectives.Last year, among the rich and beautiful at the European Planet Festival, the young pastry seller was looking for a serial killer. Sucacessful! Now she sits there with a big belly in her eighth month, lots of criminal records and a former soldiar stranded here at her side, a man with serious quirks who feels right at home in Upper Lusatia, the furthest east of Germany. Over and done with, the dream of the Golden West. Then Gwiazdek shows up. The Europol commissioner from Poland beckons with a special assignment.
Extended suicides of veterans being cared for in wellness courses. Influence of enemy agents or friendly fire from within the ranks? Political influence slows down the criminal investigation department and the Military Counter-Intelligence Service is getting nowhere. An undercover job for Max. He can cavort among old comrades. But what the hell does his pregnant girlfriend Evi want to do there?

Editing and audiobook: Philip Fairweater, Honiton, Devon
Sensitivity reading, exposé report: Li-Sa Vo Dieu, Berlin
Editing of the original version: Gundula Bacquet, Frankfurt/Main
Drawings of front cover and inner part: Patricia Cooney, St. Gallen
Drawing in the appendix and decoration: Lorenzo Gori, Berlin
Musicians: Commedia dell'arte, Jacques Callot: Wellcome Collection, London
Chakras: Wikimedia, Author datumizer, formerly SharkD, Michael Horvath
Cover design, back cover foto and typesetting: ArsAstrologica, Görlitz
Pinyon Script Font: Nicole Fally, safe new world studio, Bielefeld
Vollkorn Variable Font: Friedrich Althausen, Schwielowsee
Wingdings und Palatino Linotype Font: Microsoft, Redmond, Washington
Lato font family: Lukasz Dziedzic & Adam Twardoch, Warsaw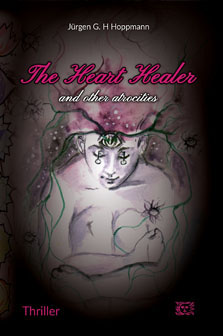 EUR 24,99 ISBN 978-3-347-91544-2 (Hardcover)
EUR 16,99 ISBN 978-3-347-91546-6 (Softcover)
EUR 13,99 ISBN 978-3-347-91543-5 (Paperback)
EUR 9,99 ISBN 978-3-347-91545-9 (Ebook)







nach oben